Welcome to Guam Chamber of Commerce
Our Mission
The Guam Chamber of Commerce exists to advance the general welfare of its members by promoting the economic, social and environmental well-being of the Territory of Guam; The Chamber seeks to develop, encourage, promote and protect the commercial, professional, financial, and general business interest of the Territory of Guam, to extend and promote the trade and commerce, and foster, develop and protect the industry of the Territory; to procure laws and regulations desirable for the benefit of business in general; and to provide a forum for the reflection of sentiments of business regarding matters affecting its interests.
$5.00 RAFFLE SALES ARE ONGOING NOW!
You will be able to pre-purchase your raffle tickets NOW! Don't miss out on great prizes our members have contributed! View the list of prizes here! You don't have to play in the tournament to try your luck.
Proceeds from the tournament will be used for Chamber of Commerce Programs and Projects.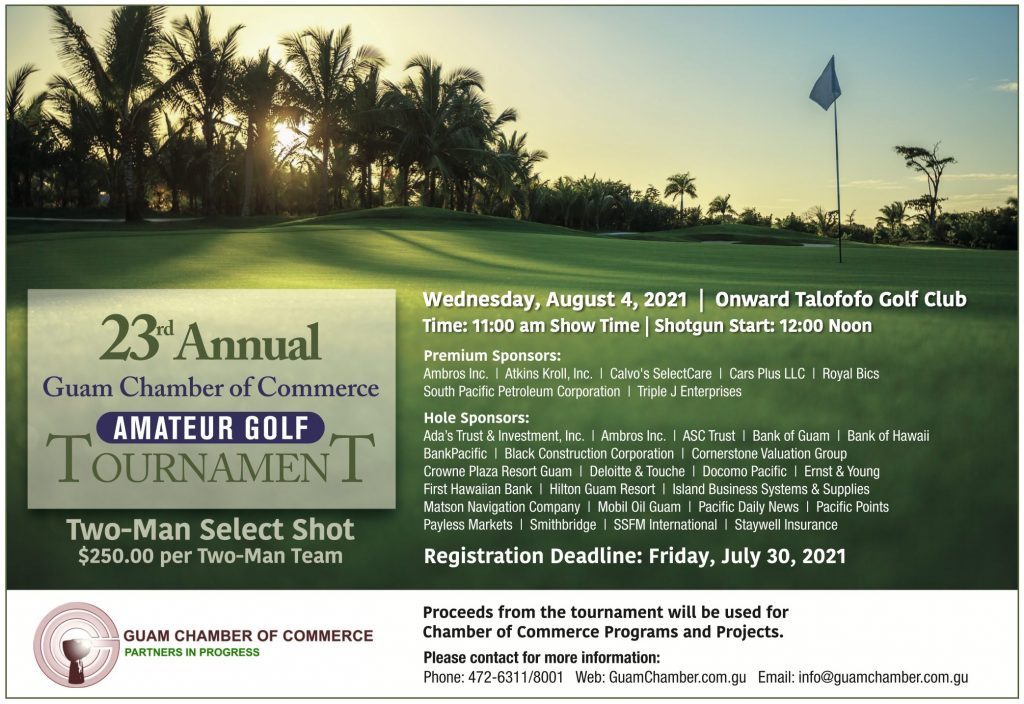 Our Vision
To be the voice and impetus for economic growth on Guam through:
Your Chamber on the Air
June 24, 2021 President Castro on The Link with Chris Barnett and Jason Salas
June 4, 2021 President Castro on The Link with Sabrina Matanane and Chris Barnett
May 18, 2021 Chairwoman Baleto on Newstalk K-57 with Tony Lamorena
March 29, 2021 Chairwoman Baleto on The Link with Sabrina Matanane and Chris Barnett
March  25, 2021 Chairwoman Baleto and President Castro on Newstalk K-57 with Tony Lamorena
March 1, 2021 President Castro on The Link with Sabrina Matanane and Chris Barnett
January 12, 2021 Chairwoman Baleto on The Link with Sabrina Matanane and Chris Barnett
January 11, 2021 President Castro on The Link with Sabrina Matanane and Chris Barnett